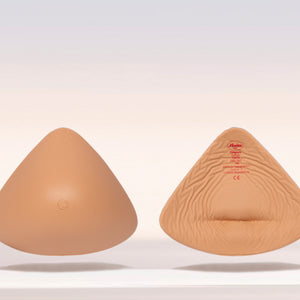 Anita Care TriNature SoftLite Lightweight 1051X
The TriNature SoftLite 1051X Breast Form from Anita Care is perfect after a mastectomy.
You can wear it on the right or left side. With its triangular shape, it evens out your silhouette after a full mastectomy and hides any irregularities.
This breast form is up to 42% lighter than standard silicone prostheses. It is perfect for women with larger busts, active women or those suffering from lymphedema.
The Flex Gap technology ensures a natural effect with each movement. The inner horizontal fold allows the breast form to perfectly imitate the movement of a non-operated breast (patented technology).
Very soft to the touch, this SoftLite silicone breast form is gentle on your skin and your scars