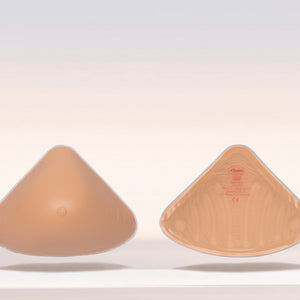 Anita Care Velvety Lightweight Breast Form 1066X
Breast Form Velvety by Anita is a light weight silicone breast prosthesis, designed to fit into modern minimalist bra designs, so there is no chance of it sticking out from the bra cup provided the right bra cup is matched to the prosthesis.
It is shaped in a modified triangle form  with silicone grooves on the back for maximum comfort and it also allow cooling on the chest wall during menopause, exercising or even during radiation and chemotherapy when body heat is excessive.
This breast form is also great for more matured breasts shape that tend to be fuller at the bottom and almost empty at the top of the chest, giving a pendulous appearance.
This breast form is also suitable for petite women with small bra cups.