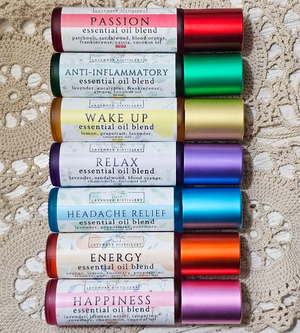 THERAPEUTIC ESSENTIAL OIL ROLLER (HAPPINESS, ENERGY, RELAX, HEADACHE RELIEF, WAKE UP, PASSION, ANTI-INFLAMMATORY)- Island Lavander
Therapeutic Essential Oil Blend with four scents to choose from.
Directions for Use:
Roll on wrists and temples as desired, inhale and enjoy the beautiful natural aromas of Essential Oils. Therapeutic and wonderfully scented.
For Anti-Inflammatory roller, roll directly onto sore & achy areas for cooling & anti-inflammatory benefits.
10mL Roller Bottle
Ingredients: Coconut Oil, Pure Essential Oils 
Handmade in Prince Edward Island